ELDT (Entry-Level Driver Training) Rules: What It Means for CDL Students
You may have heard of the recent rule implemented by the federal government called "Entry-Level Driver Training" requirements, which recently went into effect February 7, 2022. What are these new rules, and what does it mean for you, the prospective commercial driver's license (CDL) applicant?

New ELDT Rules for CDL Drivers: A Simple Explanation
The Entry-Level Driver Training (ELDT) rules that went into effect February 7, 2022, do several things to help improve the nation's road safety. Among them, the ELDT rules set minimum standards for the kind of training that CDL applicants receive prior to their exam. Anyone applying for a CDL A or CDL B for the first time (including those who upgrade from a Class B CDL to a Class A CDL) or are earning their school bus (S), passenger (P), or hazmat (H) endorsement for the first time must attend a CDL training program that meets certain minimum requirements.
If you already have your CDL, the Entry-Level Driver Training rules do not apply to you. If you already received your commercial learner's permit (CLP) before February 7, 2022, and go on to get a CDL while that CLP or renewed CLP is still valid, you also don't have to worry about the new regulations applying to you. A few other exceptions apply, such as military servicemembers with commercial motor vehicle (CMV) experience who meet all criteria for a waiver.

Benefits to CDL Students of the ELDT
The ELDT may initially seem like a burden on CDL students, but a closer look shows that it can help ensure that CDL students receive quality instruction before they take their exams or go out on the road as a commercial driver.
One of the big outcomes of the ELDT rules is the institution of a nationwide Training Provider Registry for CDL programs. This means that CDL students cannot get fly-by-night training and go right into a state CDL exam; rather, they must attend a program that meets certain minimum standards.
All approved training providers on the registry must provide a curriculum that covers:
Theory training: This includes providing lectures and demonstrations through various learning methods, including computer-based or online learning, on core topics such as basic operation, safe operating procedures, advanced operating practices, vehicle systems and reporting malfunctions, and Hours of Service rules
Behind-the-wheel training: This includes ensuring that students actually operate a commercial motor vehicle, as well as teaching basic vehicle control skills and basic maneuvers
Southwest Truck Driver Training: Approved and on the Training Provider Registry
Is Southwest Truck Driver Training (SWTDT) a registered provider of CDL programs on the Training Provider Registry? Yes! All campus locations—Phoenix, Tucson, and North Las Vegas—are on the Training Provider Registry: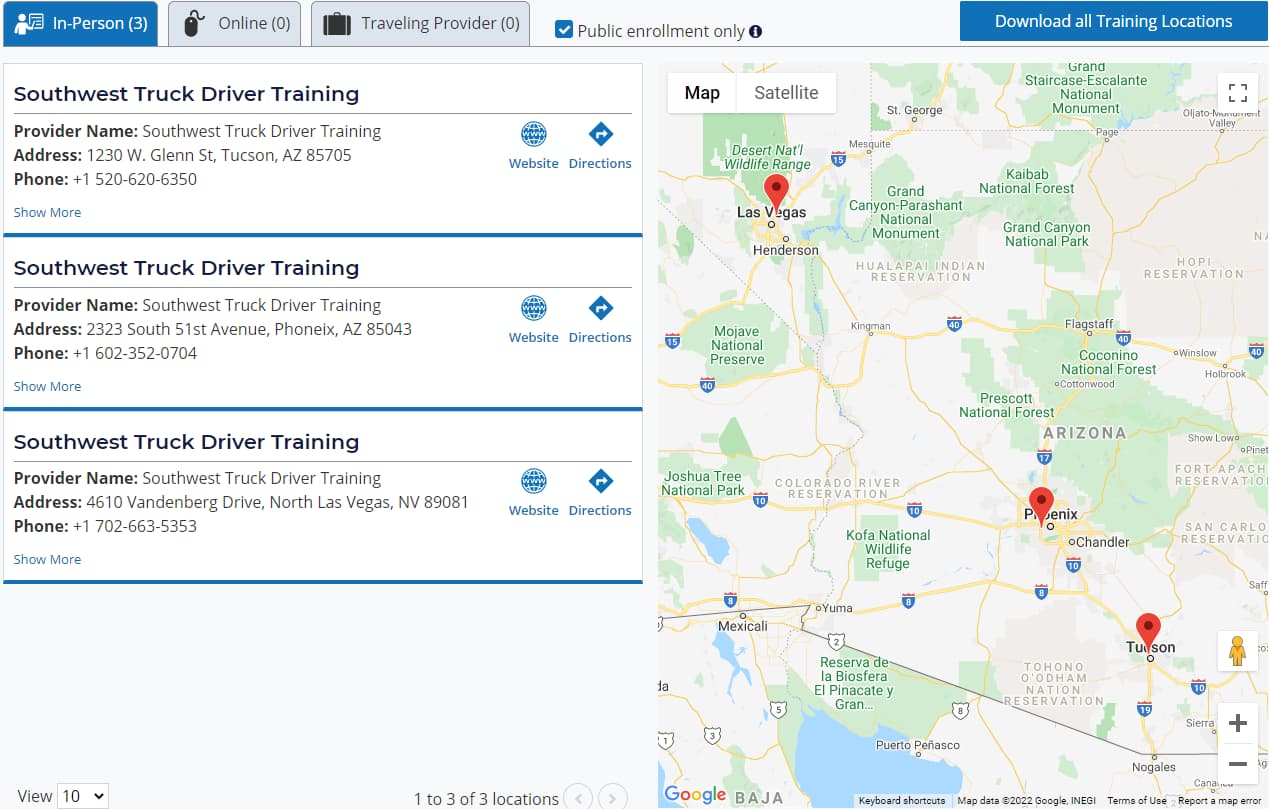 SWTDT is pleased to continue providing comprehensive CDL A and CDL B classes that meet or exceed the guidelines of the U.S. Department of Transportation under these new ELDT rules—both in the classroom and in our trucks.
If you attend SWTDT for your CDL or any other registered training provider, upon graduation the school will submit your driver certification information to the state. The state will verify that you graduated from an approved training provider before you take your CDL tests.